Welcome to RELIABLE: Your Expert Source for Fench Fries Processing Machine
Looking for top-notch fench fries processing line? Look no further. At RELIABLE, we are your global partner, specializing in delivering cutting-edge solutions for your fruit and vegetable processing needs.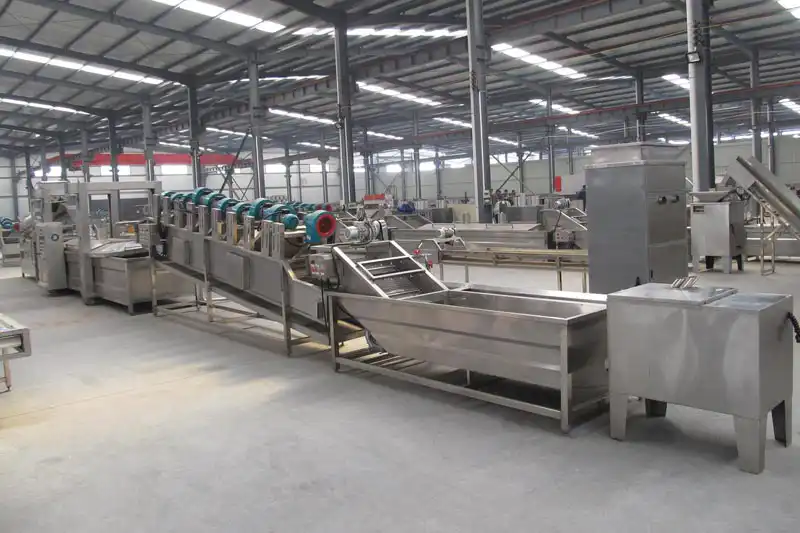 Premium foot and vegetable Processing Equipment for Your Success
Our comprehensive line of fench fries processing equipment includes:
Elevate your production with our efficient Elevator system.
Prepare your produce flawlessly with our advanced washing and peeling machines.
Sort and organize efficiently using our precision Sorting Conveyor.
Cut with precision and consistency using our state-of-the-art Fries Cutter.
Optimize texture and flavor with our innovative Blanching Machine.
Remove moisture effectively using our De-watering Machine.
Fry to perfection with our industry-leading Fryer Machine.
Reduce oil content using our efficient De-oiling Machine.
Dry efficiently with our energy-saving Drying Machine.
Package your products flawlessly with our reliable Packaging Machine.
Why Choose RELIABLE Equipment?
When it comes to food processing, precision, efficiency, and reliability are paramount. Our equipment offers:
Performance: Achieve consistent, high-quality results every time.
Efficiency: Streamline your operations for increased productivity.
Durability: Invest in machinery built to last and withstand demanding environments.
Innovation: Stay ahead with the latest technological advancements in food processing.
Frequently Asked Questions
What sets RELIABLE apart as a food processing machinery provider?
At RELIABLE, we stand out for our commitment to innovation, quality, and customer satisfaction. Our machinery is designed to elevate your processing capabilities.
Can I customize the equipment according to my specific needs?
Absolutely. We understand the importance of tailored solutions, and our team is dedicated to adapting our equipment to your unique requirements.
How can I access technical support for the machinery?
RELIABLE offers comprehensive technical support to address any inquiries or concerns you might have about our equipment. Your success is our priority.