Commercial frozen French fries are a popular and convenient food item enjoyed by people worldwide. To meet the demands of consumers, an efficient production line specifically designed for making frozen French fries is essential.
Potato Cleaning and Peeling Machine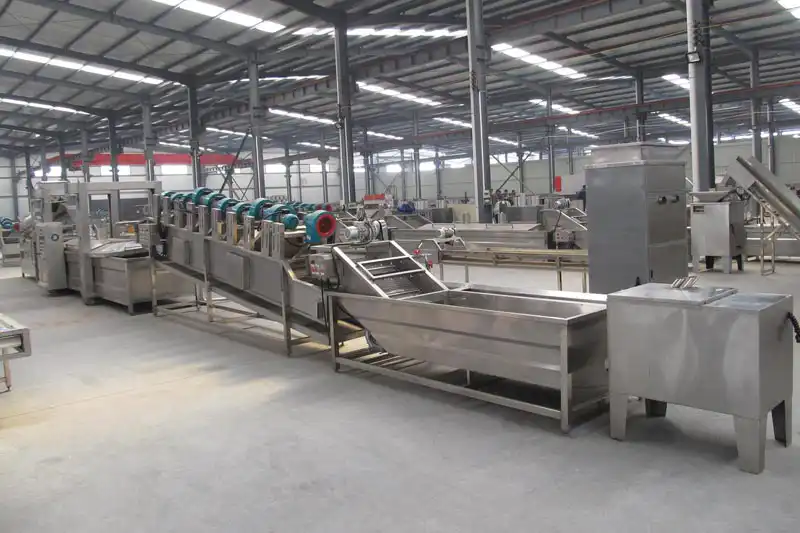 The frozen French fries production line starts with potato washing and peeling equipment. The potato cleaning and peeling machine can be used as a single machine or in the potato chips production line.

French Fries Cutting and Slicing Equipment:

The french fries are a cutting machine that precisely processes potatoes into uniform shapes and sizes, ensuring consistent quality in the final product.
French Fries Blanching Machine:

After slicing, the potatoes undergo a thorough washing process to remove dirt and impurities. Subsequently, blanching is employed to partially cook the potato slices, enhancing their texture and preserving their natural color.
French Fries Drying and Frying Equipment:

In order to achieve the desired crispness, the blanched potato slices are carefully dried using specialized machinery. Following drying, pre-frying equipment partially fries the slices, creating a crispy outer layer while maintaining internal moisture.
French Fries Freezing Machine:
The freezing machine plays a crucial role in preserving the quality of French fries. It rapidly freezes the partially fried slices, locking in freshness, flavor, and texture.
French Fries Packaging Machine:
Once the French fries have been flash-frozen, they proceed to the packaging stage. Advanced packaging systems ensure proper sealing, preventing freezer burn and maintaining the product's overall quality during storage and transportation.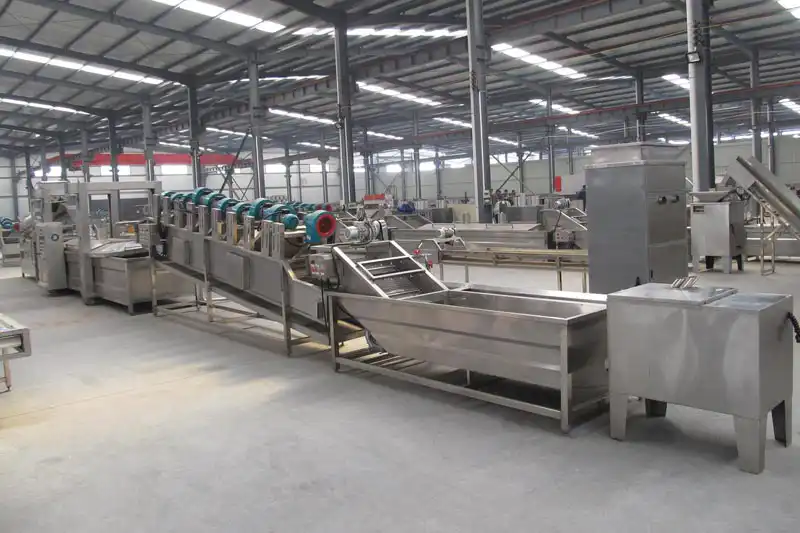 Benefits of a Commercial Frozen French Fries-Making Production Line:
a) Increased Efficiency and Productivity:
The use of an integrated production line streamlines the manufacturing process, maximizing efficiency and productivity. Automated machinery minimizes manual labor requirements and optimizes output, reducing production costs.
b) Consistent Quality and Uniformity:
The production line ensures uniformity in size, shape, and texture, delivering consistent quality French fries to consumers. Standardized processes and machinery eliminate variations in production, meeting consumer expectations.
c) Enhanced Food Safety:
Strict hygiene practices and advanced equipment in the production line maintain high levels of food safety. Automated systems minimize the risk of contamination, ensuring that the final product meets stringent health and safety regulations.
d) Extended Shelf Life:
The flash-freezing process enables a longer shelf life for frozen French fries. By preserving the product at extremely low temperatures, the production line promotes extended storage time without compromising taste or quality.
e) Market Competitiveness:
A commercial frozen French fries making production line allows manufacturers to meet the growing demand for frozen potato products. It facilitates large-scale production, enabling businesses to remain competitive in the market and expand their customer base.
Conclusion:
A well-designed commercial frozen French fries making production line is essential for meeting the demands of consumers seeking convenient and delicious frozen potato products.
By incorporating a potato washer, potato peeler machine, potato cutting equipment, vegetable blanching equipment, vegetable dryer, frying machine, vegetable freezing machine, and advanced packaging solutions, the production line ensures efficiency, consistency, and high-quality output.
Embracing such a production line not only enhances productivity but also maintains food safety standards and extends the shelf life of frozen French fries, allowing businesses to thrive in a competitive market.