Summary of customer situation:
The customer, in this case, comes from Iraq, owns a potato production farm, and operates a frozen french fries factory locally.
Due to the growing market demand, the customer wants to expand its production scale and reduce labor costs.
Considering that our company has a complete and rich solution for frozen French fries production lines, the customer cooperates with us to establish a 400kg/hour production line.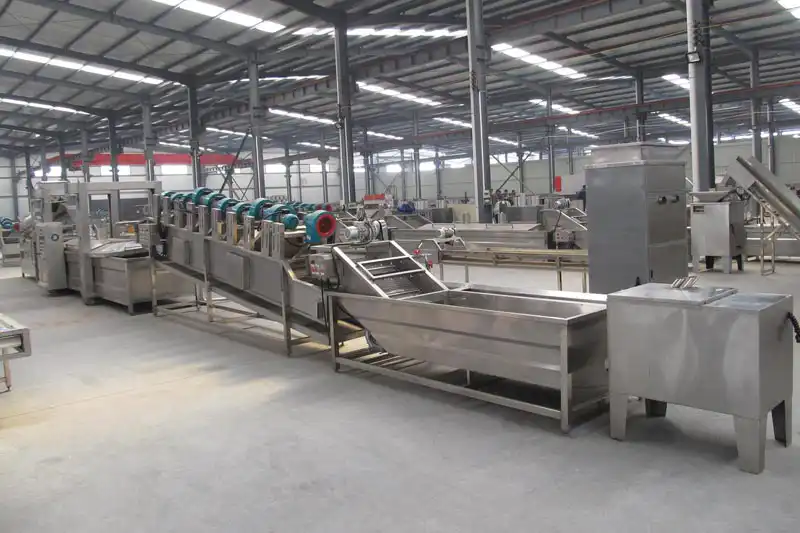 Market demand and analysis of frozen French fries in Iraq:
As a Middle Eastern country, Iraq has a large consumption of potato products due to its suitable climate, fertile soil, long history of potato cultivation, and large population.
At the same time, with the rise of fast food culture, frozen foods have gradually become essential to people's daily lives.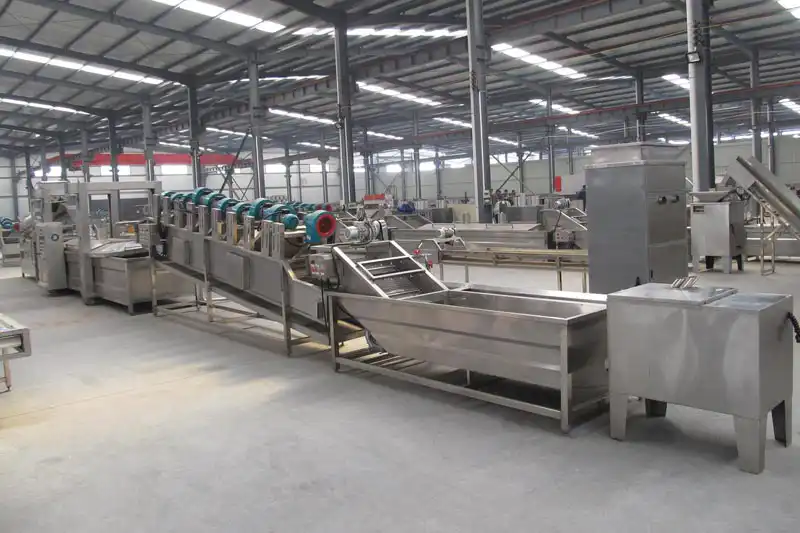 Frozen French fries, one of the most common foods, also have an extensive application in the Iraqi market, and their prospects are promising.
Introduction to the process flow of the 400kg frozen French fries production line:
The production line is divided into several stages, including raw material processing, slicing, air pre-treatment, frying, deoiling, quick freezing, packaging, etc.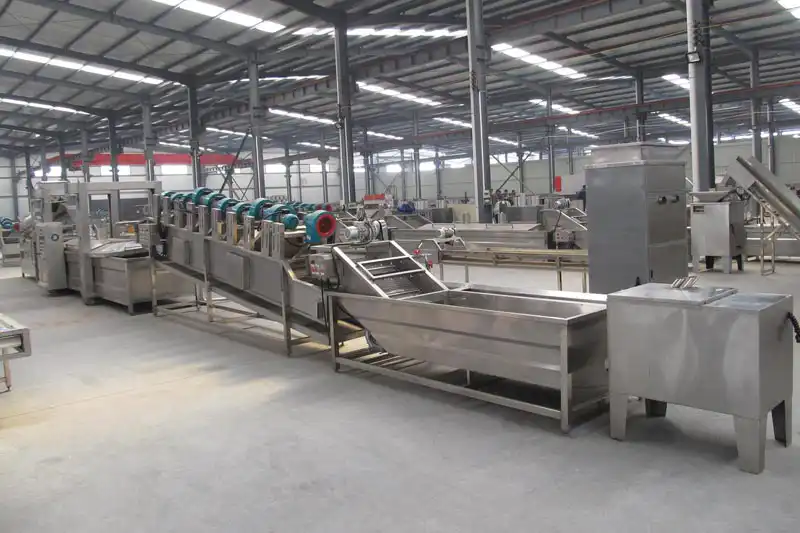 The specific process flow is as follows:
1) Raw material processing: clean the potatoes, and through peeling, removing head and tail, and sorting steps, qualified potatoes are sent to the potato slicer.
2) Slicing: use professional cutting machine to slice the potatoes evenly.
3) Blanching: process the sliced potatoes in a blanching machine.
4) Frying: put the blanched potato slices into the potato fryer for short-term and fast frying.
5) Deoiling: Remove excess oil using potato deoiling machine force or vibration screens after frying.
6) Quick freezing: put the deoiled potato slices into the quick-freezing machine for quick freezing treatment to prolong storage time.
7) Packaging: Pack the quick-frozen potato slices using a packaging machine to become standard frozen French fries.
Core machines used in the frozen French fries line:
The production line uses multiple devices, including a potato cleaning machine, potato peeling machine, potato slicer, French fries blanching machine, French fries frying machine, French fries dehydrator and French fries deoiling machine, French fries quick freezer, French fries packaging machine, etc.
Each device has undergone strict quality inspection and testing to ensure stable and reliable performance and efficient completion of its respective tasks.
Customer's overall evaluation of the equipment and process solutions we provide:
The customer is delighted with the equipment and process solutions we provide.
Throughout the project, our company provided professional technical guidance and perfect after-sales service, which made the construction of the production line progress smoothly, and the customer could quickly use the new equipment.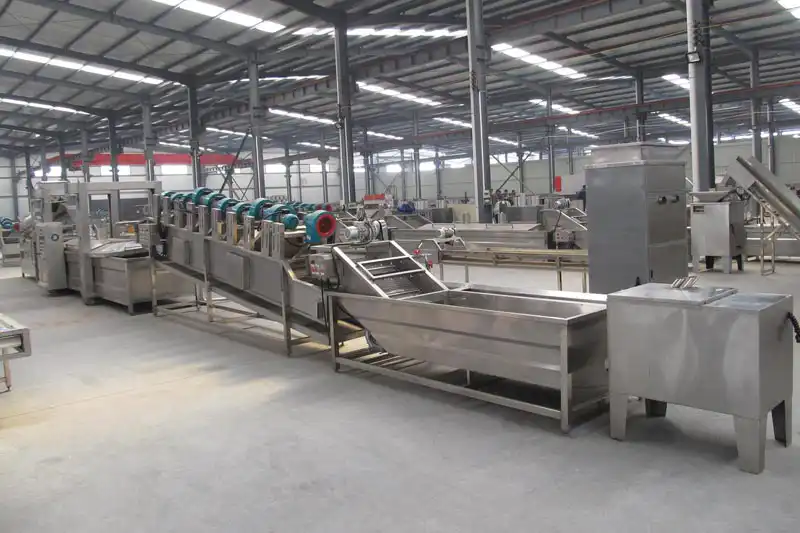 At the same time, the customer feedback is that our equipment is stable, reliable, and has high production efficiency.
Our commitment and service attitude to all customers' demands for frozen French fries production lines:
As a professional frozen French fries line Manufacturer, we deeply understand that customer requirements and needs are the most important.
Therefore, we promise to always adhere to customer-centricity and provide the highest quality products, the most professional technical support, and after-sales service throughout the sales process.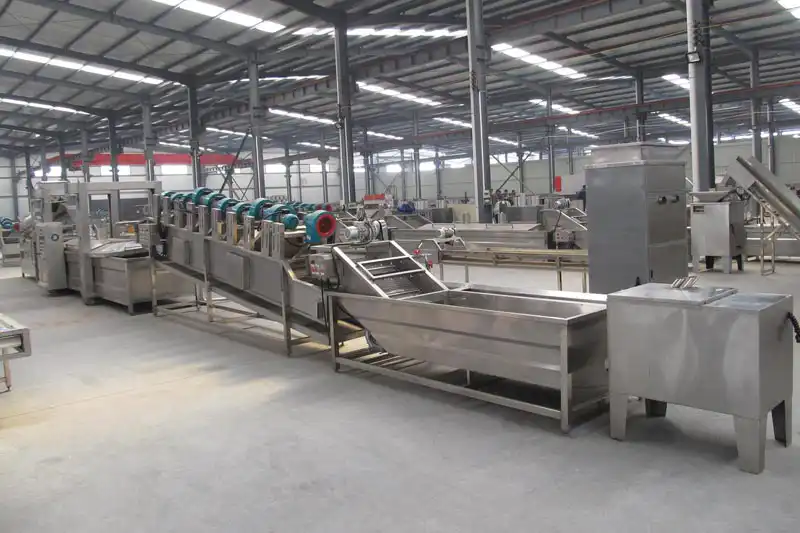 Firstly, regarding equipment selection, our company will provide comprehensive and professional equipment solutions based on customers' actual situations and needs to ensure that each customer can purchase the most suitable equipment for themselves.
Secondly, regarding equipment delivery, we will strictly produce according to the delivery deadline stipulated in the contract and communicate the delivery progress with customers to ensure that customers can have the required equipment in the shortest time possible.
Then, regarding equipment debugging and installation, our company will send professional technicians to the customer's site for equipment debugging and structure and train operators to ensure that customers can use the equipment smoothly.
Finally, after-sales service, RELIABLE will establish a complete system to provide customers with 24/7, fast, and efficient technical support and maintenance services to ensure that the customer's equipment is always in the best condition, thereby creating more commercial value for customers.
In summary, we will always uphold the customer-first service concept, continuously improve product quality and technical level, and provide higher quality equipment and services for global frozen French fries production lines companies.